Products and Services
Education
Alcatel-Lucent OmniAccess® Stellar WLAN Selector
Get the wireless network that's designed just for your business. Click through to the quick configuration tool where you just need to answer a few simple questions to get the right solution to meet your exact requirements, today and tomorrow.
Start now
HARDWORKING
WI-FI

IN EDUCATION

Discover the wireless network that's intelligent and reliable enough for the smart classroom.

Education is being shaped by several powerful forces.

From the textbook to the curriculum, from the classroom to analytics, everything is being digitized, right down to learning itself.

Coupled with the rise of the smart classroom, and of personalized and flipped learning, this means there is now greater diversity, more users, and more devices than ever before. All of them demanding anytime, anywhere, secure connectivity.
This almost complete dependency on the network demands the highest-performing, most reliable Wi-Fi. A solution that is:
Demonstrably cost effective
Fast to deploy
Simple to operate
Comprehensively secure
Easily scalable
Consistent across any compliant device, from anywhere on campus
DISCOVER HARDWORKING
WI-FI

IN EDUCATION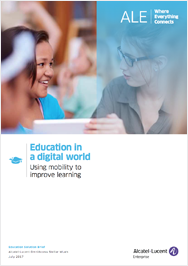 Solution Brief: Hardworking Wi-Fi in Education
Discover the benefits that Alcatel-Lucent OmniAccess Stellar WLAN means for education, from truly blended learning to increased security.
Get the Solution Brief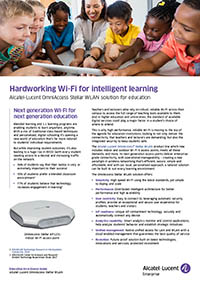 At a glance: OmniAccess Stellar WLAN for Education
Only got five minutes? This overview explains just how the solution solves common connectivity challenges in education.
Download Guide
Where Everything Connects