Products and Services
Healthcare
Alcatel-Lucent OmniAccess® Stellar WLAN Selector
Get the wireless network that's designed just for your business. Click through to the quick configuration tool where you just need to answer a few simple questions to get the right solution to meet your exact requirements, today and tomorrow.
Start now
HARDWORKING
WI-FI

IN HEALTHCARE

How do you meet the growing need for a reliable, fast wireless network for patients, guests and clinicians alike, in the face of growing network traffic and cybercrime?

As the recent cyberattacks on high-profile hospitals demonstrated, it is imperative that healthcare networks are now more resilient and secure than ever before.

But that's no easy task. Especially at a time when, despite being spread extremely thin already, such networks are under pressure to perform better and deliver more coverage to more users, on more devices, with lower latency.

And with the cost of cybercrime rising by a third from 2013 to 2015, more than 20 billion IoT endpoints expected by 2020, and billions of smartphones and other personal devices shipping every year, that task will only get tougher.
Helping patients, staff, and site visitors, stay connected to their respective healthcare ecosystems, ALE maximizes Wi-Fi security and minimizes risk with:
Distributed intelligence
Easy installation and operation
Increased resilience
Higher performance
Network isolation (or segmentation)
Secure, unified access
Connectivity everywhere
Easy device and user onboarding
DISCOVER HARDWORKING
WI-FI

IN HEALTHCARE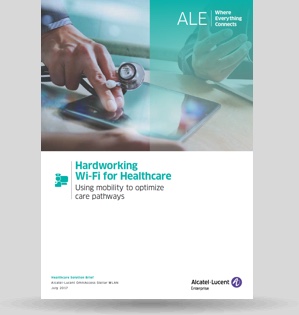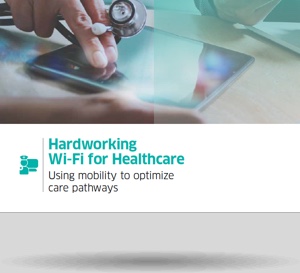 Solution Brief: Hardworking Wi-Fi in Healthcare
Discover the benefits that Alcatel-Lucent OmniAccess Stellar WLAN means for healthcare, and enable clinicians to work more effectively, improving the patient care pathway.
Get the Solution Brief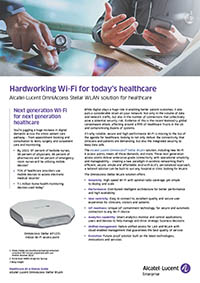 At a glance: OmniAccess Stellar WLAN for Healthcare
Only got five minutes? This overview explains just how the solution solves common connectivity challenges in healthcare.
Download Guide
Where Everything Connects