Products and Services
Government
Alcatel-Lucent OmniAccess® Stellar WLAN Selector
Get the wireless network that's designed just for your public sector organization. Use this guide to understand which Wi-Fi equipment is right for you.
Start now
HARDWORKING WI-FI IN GOVERNMENT
Today's public sector organizations face an array of pressing new challenges.
While optimizing effectiveness, service and safety have always been priorities for governmental organizations, they are now under huge pressure to minimize inefficiencies, cost and risk at the same time.
And with the urgent need to optimize the citizen experience as well – to ensure every connection between government employees and the public is a superior one, from social service agencies to road maintenance crews to 911 call centers – the size of the task becomes clear.
It means matching the public's expectations for an end-to-end connected experience that makes their life easier and safer, such as immediate access to public resources and emergency responders, with government employees' need for secure, cost-effective communication, both in the office and in the field.
That makes total mobile connectivity crucial. And with hundreds of government and public sector customers worldwide, ALE is perfectly placed to help organizations like yours deliver a high-quality Wi-Fi experience via:
| | |
| --- | --- |
| • Distributed intelligence | • Secure, unified access |
| • Easy installation and operation | • Connectivity everywhere |
| • Increased resilience | • Easy device and user onboarding |
| • Higher performance | • Hardened outdoor access points |
DISCOVER HARDWORKING
WI-FI IN GOVERNMENT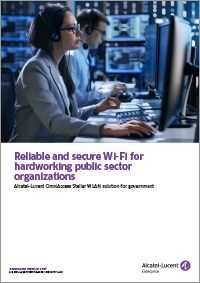 At a glance: OmniAccess Stellar WLAN for Government
Got only five minutes? This overview explains just how the solution solves common connectivity challenges in the public sector.
Download Guide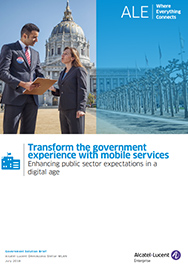 Solution Brief: Hardworking Wi-Fi in Government
Discover the benefits that Alcatel-Lucent OmniAccess Stellar WLAN means for the public sector, and deliver the citizen experience required in the digital age.
Get the Solution Brief
Where Everything Connects